Best Business Email Provider in Bangladesh
Hosting for corporate email is becoming more popular each day. A corporation or business will never send emails for free. Clients' Brand Value and Trust are raised by business emails. Through the branded domains associated with your business, you can send and receive mail. As a result, it is regarded as the corporate structure. Free emails are not at all secure. One of the email providers can leak the information. However, hosting for business email is incredibly safe and end-to-end secured. Abusers have no prospect of leaking any information. Since 2018, Orange Soft BD has offered corporate email hosting services in Bangladesh. We always work to keep the information about our esteemed clients private and unreleased. Our after-sales support team is committed. As a result, we are now Bangladesh's Best Corporate Business Email Hosting Provider.
With Business Email, you may give your firm a more professional image than with free email solutions by having email that is branded with your company's domain name (for example, sales@mybrand.com). You also gain from our cutting-edge email technology, which provides you with the lowest latency and the best uptime, scalability, and reliability in the business. There are no costs associated with IT, infrastructure, software, bandwidth, or personnel when an email service is provided through the cloud. Additionally, you can add email accounts as your company expands, which is the finest part.
Starter

TK. 200 /Per Month

1GB / mailbox
Calendar sharing
Personal mail forwarding
IMAP/POP
Unlimited mail filters
Professional

TK. 500 /Per Month

10GB / mailbox
Calendar sharing
Personal mail forwarding
IMAP/POP
Unlimited mail filters
Premium

TK. 700 /Per Month

30GB / mailbox
Calendar sharing
Personal mail forwarding
IMAP/POP
Unlimited mail filters
These Amazing Features Are What Set Our Email Hosting Service
Redo Sent Mail
Before the contact sees it, delete and edit the email. You can easily edit and delete.
Calendar
Through Gmail, Outlook, or Apple Mail, you may schedule tasks, communicate with contacts, and invite others.
Easy Follow-ups
Follow-up Reminders to assist you in recognizing and picking up on unfinished business with prospects
Thread Lightly
Use email threading to prevent interruptions and tangents in the conversations.
Multi-account Access
Manage tasks for various accounts using a single interface. You can easily managed your account.
Identify Read Emails
Receive notice when you purchase When the recipient opens and reads the email message, read the receipts.
What is Business Email?
Making an email with your domain name as an extension is what business email is all about. Business email is essential for creating your own company or business's brand. Visitors and clients will value your brand much more. Therefore, the concept of how to design a branding email or business email has developed.
How Does Business Email Work?
You must acquire business email hosting in order to create a professional email. You must purchase the domain with your company's name on it. In other words, you must purchase the domain in the name that you intend to use to establish the mail. You may see the emails in your email address that will actually be sent to your Gmail or other accounts if you create forwarded mail. Additionally, when you purchase domain hosting, you can use it to build both a website and a business email.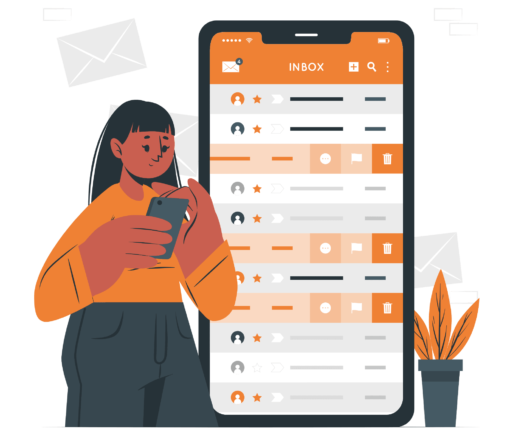 Do More, Worry Less with our Business Mail
1. Advanced Lookup
Everything you require is close at hand: With our lightning-fast advanced search, you can locate anything. You may search your whole mailbox using Titan's sophisticated search features by email address, subject line, dates, and keywords.
2. Unread Emails
Pay attention to what is important at this time: Do you have any unanswered emails at the moment? With Snooze, you can temporarily transfer emails out of your inbox so you can deal with them when the time is right. You become less distracted and more productive when your inbox is clear.
3. Reminders
Always follow up on time: You're trying to set up a meeting, close a deal, or meet a deadline when you send a key email. To ensure that nothing falls through the cracks, reminders automatically bring up topics that need to be followed up on.
Frequently Asked Questions For Business Email
What is Business Email?
A business email address is one that incorporates the domain name of your company. In comparison to generic domain names like gmail.com, many people characterize it as a professional or customized email that appears more appropriate to an organization. It serves as your company's internet business card.
Does Titan Include a Spam Filter?
Without a doubt! Advanced anti-spam filters are included with Titan. Before being delivered directly to your mailbox, all incoming communications must first pass through the spam filter.
How Can I Use Titan Max Features?
Some of the Titan Max features are Follow-Up Reminders, Read Receipts, Send Later, and Email Templates. You can access these features through your Titan account. You can use all these capabilities from the Titan control panel.
Can I Access My Email Account on a Mobile Device?
Yes, you may access Titan email through a web browser or even through Titan apps for iOS and Android devices. Additionally, third-party email software like Apple Mail and iOS Mail can be used with Titan.
Can I Migrate My Data From Other Platforms?
In a word, yes! We provide solutions that make it simple for you to transfer your email information to a new account. With regard to email migration and any other hosting-related issues you may encounter, our technical support team is always available to help.
What Are the Advantages of Domain-based Email?
A business email or domain-based email stops spammers from tricking your customers. This is due to the fact that your domain-based email address will be personalized and exclusive to your company. As a result, it helps to build brand recognition among your prospects and develops brand trust.
Your customers can communicate with you or your company partners via email directly and more successfully if you have a business email account.
You can track your business emails with domain-based email, which helps you plan and create better email marketing campaigns. By keeping track of how your prospects respond to your email campaigns, you can collect invaluable statistical data.
Call us at 01751002628 between the hours of 9:00AM and 11:00PM if you need assistance choosing the best option for your company, or start a live chat. Live chat with us is available around-the-clock.