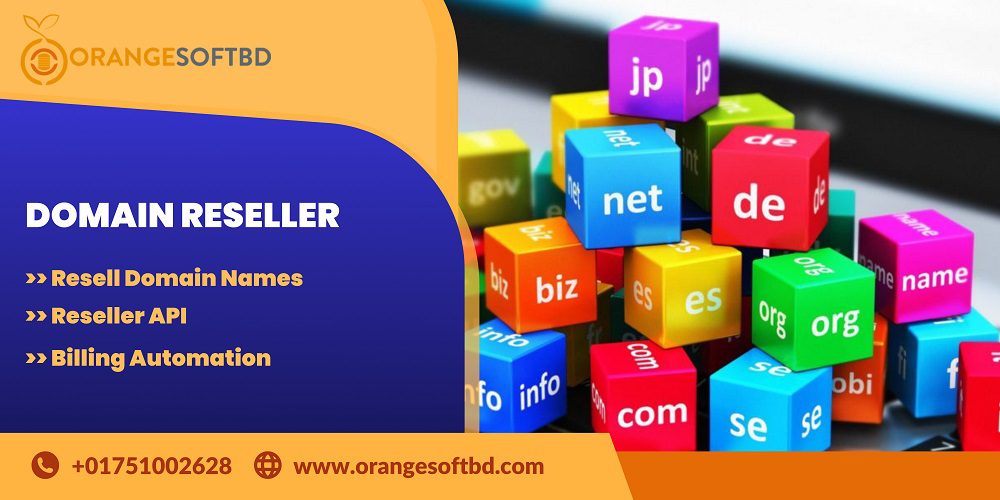 Why Are Cheap Domain Resellers So Popular And How Should You Choose One?
The Cheap domain reseller gained popularity due to their affordability and convenience. Many individuals and businesses are attracted to these services because they offer domain names at significantly lower prices compared to registering directly with domain registrars.
This affordability is especially appealing to startups, small businesses, and individuals with limited budgets. Additionally, domain resellers often provide user-friendly platforms and additional services like web reseller hosting, making it a one-stop shop for those looking to establish an online presence. 
However, choosing the right cheap domain reseller is crucial. It's essential to consider factors such as reputation, customer support, domain management tools, renewal prices, and any hidden fees. 
Reading reviews and comparing offerings will help you select a reliable reseller that meets your needs while ensuring a positive online presence.
Why Are Cheap Domain Resellers So Popular?
Cheap domain resellers are popular because they offer domain names at significantly lower prices than some of the more established domain registrars. This affordability attracts individuals and businesses looking to save money on their online presence.
Cheap domain resellers often provide a user-friendly interface and simplified registration process, making it easy for beginners and non-technical users to purchase domain names. This accessibility encourages more people to get their own domains.
Many retailers offer bulk domain reseller registration, allowing customers to buy multiple domains at a discounted rate. This is appealing to businesses and investors looking to acquire multiple domains for various purposes
Some cheap domain resellers bundle domain registration with other services like web hosting, email hosting, or website builders. These packages can be cost-effective for those who need a complete online solution.
How Should You Choose a Cheap Domain Reseller?
Choosing a cheap domain reseller requires careful consideration to ensure you get the best value and service. Here are some key factors to keep in mind:
1. Reputation and Reviews: Look for a domain reseller with a solid reputation. Read reviews and testimonials from other customers to get a sense of their reliability and customer satisfaction.
2. Pricing: Compare domain reseller prices among different resellers. Be cautious of prices that seem too good to be true, as there may be hidden fees or limitations. Consider both the initial registration cost and the renewal price.
3. Additional Services: Some domain resellers offer bundled services like web hosting, SSL certificates, and website builders. Assess whether these additional services align with your needs and if they provide good value.
4. Ease of Use: Check if the reseller offers a user-friendly platform for domain management. The interface should be intuitive and allow you to make necessary changes to your domains easily.
5. Customer Support: Reliable customer support is crucial. Ensure the reseller offers various support channels (email, chat, phone) and has responsive and knowledgeable staff to assist you with any issues or questions.
By carefully evaluating these factors and doing thorough research, you can choose a cheap domain reseller that offers the best combination of affordability and reliable service to meet your online needs.
Cost-Effective Domain Resellers Solution
For a cost-effective domain reseller solution, you'll want to balance affordability with reliability and features. Here's a step-by-step guide to help you find the right cost-effective domain reseller:
Research and Compare:

Start by researching different domain resellers. Look for a list of reputable resellers through online searches or recommendations from peers. Create a list of potential candidates.
Price Comparison:

Compare the domain registration prices offered by each reseller for the specific domain extensions (TLDs) you need. Pay attention to both initial registration costs and renewal fees, as some resellers offer low initial prices but higher renewals.
Customer Support:

Check the quality and availability of customer support. Responsive and knowledgeable support is essential, especially when you encounter issues or have questions about your domains.
Domain Management Tools:

Examine the features and capabilities of the domain management tools provided. Features like DNS management, domain forwarding, and WHOIS privacy are important for controlling your domains effectively.
Reviews and Recommendations:

Read reviews and seek recommendations from others who have used the reseller's services. This can provide valuable insights into the reseller's performance and customer satisfaction.
By carefully evaluating these factors and conducting thorough research, you can find a cost-effective domain reseller solution that meets your specific needs and budget while providing reliable domain management services.
We Provide Budget-Friendly Solutions
Offering budget-friendly solutions is a compelling proposition in today's competitive market, as it resonates with individuals and businesses looking for cost-effective options. Here are some key points to highlight when promoting your budget-friendly solutions:
Affordability:

Emphasize that your solutions are designed to be cost-effective, making them accessible to a wide range of customers, including startups, small businesses, and budget-conscious individuals.
Value for Money:

Showcase the value that customers receive with your solutions. Explain how your offerings provide all the essential features and benefits without breaking the bank.
Transparent Pricing:

Clearly outline your pricing structure. Avoid hidden fees or unexpected charges, as transparency builds trust with customers.
Customization:

Highlight the flexibility of your solutions, allowing customers to choose the features and services that suit their specific needs and budget.
Quality Assurance:

Reassure customers that affordability doesn't mean compromising on quality. Describe the quality control measures you have in place to ensure reliable performance and customer satisfaction.
Customer Testimonials:

Share testimonials or case studies from satisfied customers who have benefited from your budget-friendly solutions. Real-life examples can inspire trust and confidence in potential clients.
By effectively communicating these points in your marketing materials, website content, and customer interactions, you can attract and retain customers who are seeking budget-friendly solutions while building a reputation for affordability and value.
Empower Your Business With Our cheap domain Reseller Account
We understand the importance of cost-effective solutions, which is why we offer our affordable domain reseller account to empower your business. Here's how our reseller account can benefit you:
Budget-Friendly Domains: Our domain reseller account provides access to domain registrations at competitive prices, making it easier for you to secure the online addresses you need without straining your budget.
Value-Added Services: In addition to domain registration, our reseller account may include valuable extras such as web hosting, SSL certificates, and domain privacy protection, enhancing the overall value of your online presence.
User-Friendly Management: Our intuitive control panel simplifies domain management, allowing you to easily update DNS settings, configure domain forwarding, and handle other essential tasks efficiently.
Exceptional Support: Our dedicated support team is ready to assist you whenever you need help. We are committed to guiding you through the domain registration process and addressing any inquiries or concerns promptly.
Scalability: As your business grows, our reseller account can expand with you. Enjoy the flexibility to adapt to your evolving online requirements seamlessly.
Don't miss the opportunity to reinforce your online presence while staying within your budget. Empower your business with our affordable domain reseller account and unlock the full potential of your online endeavors. Join us today, and let's embark on a journey to enhance your digital success together.
Conclusion
Our affordable domain reseller account is designed to be the catalyst for your business's online success. We recognize the importance of cost-effective solutions in today's competitive digital landscape. 
With competitive domain registration prices, value-added services, user-friendly management tools, exceptional support, scalability, and transparent pricing, we offer a comprehensive package to empower your business.
Our commitment to reliability, security, and customer satisfaction ensures that your domains remain accessible to your audience around the clock, and our support team is always ready to assist you with any inquiries or concerns.
Don't miss out on the opportunity to strengthen your digital footprint while staying within your budget. Empower your business with our affordable cheapest domain reseller account, and together, we can embark on a journey to maximize your online success.
Join us today, and let's build a brighter digital future for your business.