Email Hosting for Small Business and Personal Use
There are a lot of choices when it comes to hosting your own email. Whether you're running a simple website, managing an online business, or need to give email accounts for your employees, email is a must-have. Regardless of the technology used, all of our hosting plans provide FREE email and unlimited email addresses that may be linked to your website. The amount of email storage you have depends on the type of hosting and your plan level. You can also use one of our email hosting services to host your own email application.
WORKSPACE 30GB
TK.1350 /Month
Up To 5 Email Accounts
30GB Mail Storage
CrossBox Suite
250 Email Per Hour
MailChannels Inbound
SPAM Protection
WORKSPACE 100GB
TK.1850 /Month
Up To 10 Email Accounts
100GB Mail Storage
CrossBox Suite
250 Email Per Hour
MailChannels Inbound
SPAM Protection
WORKSPACE 250GB
TK.2500 /Month
Up To 25 Email Accounts
250GB Mail Storage
CrossBox Suite
250 Email Per Hour
MailChannels Inbound
SPAM Protection
WORKSPACE 500GB
TK.3000 /Month
Up To 50 Email Accounts
500GB Mail Storage
CrossBox Suite
250 Email Per Hour
MailChannels Inbound
SPAM Protection
Bangladesh's Low-Cost Email Hosting Provider
With the attractive CrossBox collaboration suite and NextCloud shared file storage, you get a powerful email hosting solution. Our email hosting solution was created to allow you to break free from the traditional 'per-user' email hosting approach, allowing your company to host several email accounts on a single subscription.
This is unlikely to happen if you use a secure and unique custom email address. Whether you just want an email address with your own personal name, such as info@yourname.com, or you run a blog or a freelance business and want to create your brand, an email address with your own name can get you more trust and clicks.
With Orange Soft BD, creating a custom email address is now easier and less expensive than before. Within the Orange Soft BD Panel, you may create a domain in under a minute and receive a free email account. Alternatively, you can get started with your customised and secure email account by buying email hosting for just 1250/=.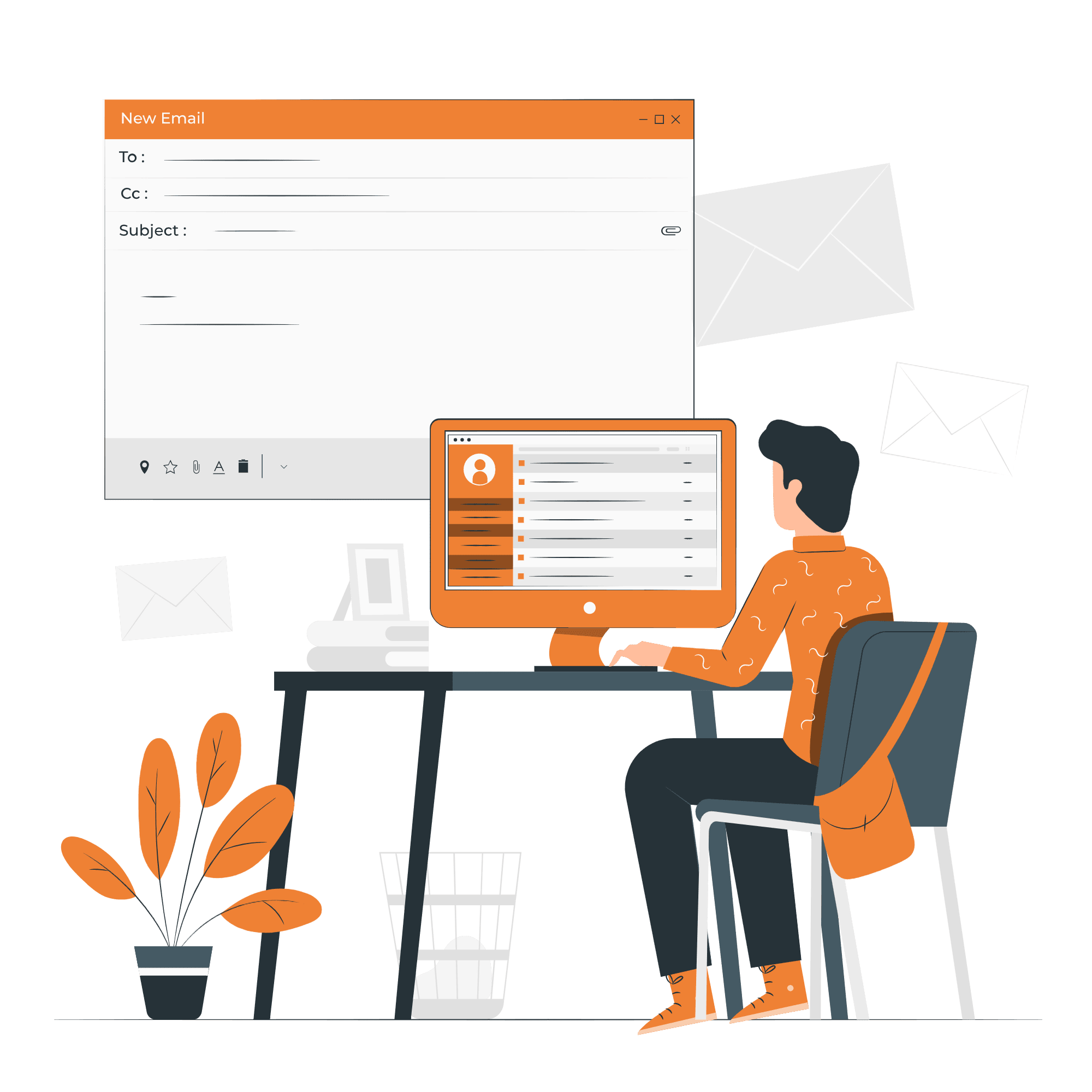 Crossbox Provides Email Hosting for Businesses
Our Email Hosting is a good alternative to Microsoft Exchange or Google Mail, and it comes with a full suite of collaboration features to help you manage your business efficiently. Our Email Hosting, which includes NextCloud and CrossBox, is beautiful, intuitive, and powerful — it's more than just email.
1. Webmail Client (Cross Box)
2. File Storage on the Cloud
3. SPAM Protection by Spam Experts
4. There are no 'per-user' fees.
5. Migration that is simple and automatic
6. Award-winning, round-the-clock assistance
The Orange Soft BD specialized hosting service is ideal for users who desire a personalized, unique email address with enough storage on an ad-free, safe, and professional platform. You can use the Email Hosting plans to create email addresses for many purposes, such as showing info@yourdomainname.com on your website or online profile as a way for people to contact you. You can create different email addresses with your own domain if you wish to separate emails for different purposes such as queries, marketing, correspondence, and so on.
Key Features of Email Hosting Services
1. Upgrade / Downgrade in Real Time
2. Shared / Team Calendars
3. Signatures on emails
4. Webmail that is both powerful and intuitive
5. Outbound IP Protection for Mail Channels
6. Snooze Handling and 'Send Later'
7. File Sharing / Sending of Large Files.
8. Shortcuts / Canned Responses
9. Delayed / Cancelled Sending
10. Intelligent Anti-SPAM Filtering
11. Email Migrations and Imports
12. Automated Response Systems
13. Text, audio, and video chat are all available.
14. Screen Sharing Capabilities
15. Contact Management in a Group
Email Relay Email Channels
The most common source of mail delivery troubles on shared hosting is blacklisted IP addresses, which is a common problem for most hosting companies. All outbound mail is forwarded through a global network of IP Addresses devoted to delivering your message using Mail Channels Cloud. This is a premium relay solution that comes with your hosting platform at no additional cost.
Free Of Charge
All mailboxes come with a standard mail relay service.
Inbox, not SPAM!
Your emails will be delivered successfully thanks to Mail Channels.
Frequently Asked Questions For Budget Web Hosting
What Is the Definition of Email Hosting?
Email hosting is a built service that is not related to website hosting. As a result, even while setting up your hosted email services, your current web host's website will be able to run at maximum capacity.
What Are the Benefits of Using a Domain-based Email Services?
It is critical to develop brand awareness and trust in today's world. Customers are more likely to do business with those who use professional email addresses, according to various studies and surveys. While anyone can sign up for a free email account, having a unique email address with your own domain name can set you apart from spammers and scammers. When you acquire a hosting plan, most web hosting companies, including Orange Soft BD, include a free domain-based email account.
Is It Possible to Transfer My Email and Contacts From a Third-party Email Hosting Service?
Yes, of course! Our email plans have a built-in migration tool to assist you migrate email data from your own server, Zoho mail, Microsoft Exchange, or Google Workspace to our platform. If you have any issues throughout the migration, our dedicated Customer Success Team is always available to assist you!
What Is Included in the Cheap Email Hosting With Orange Soft BD?
When you register for our low-cost email hosting, your emails will be managed with Web Mail, which operates similarly to Microsoft Outlook, Gmail, or Yahoo but may have a different look. It's an email system that lets you access your messages through a web browser. You may send and receive emails from any device with an internet connection, and you can integrate it with most other email management systems. Orange Soft BD's email hosting includes at least 99.5 percent uptime, 24/7 technical and remote assistance, and a minimum of 30GB storage.