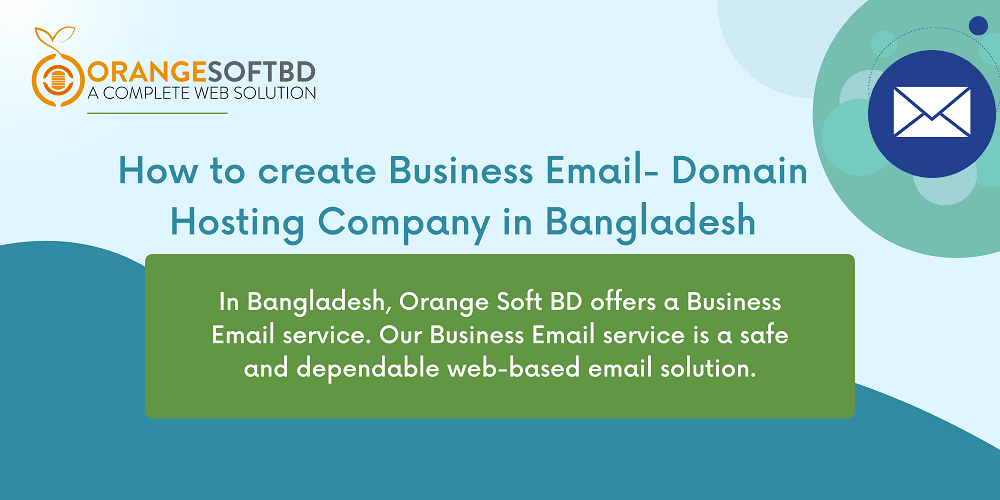 How to create Business Email-Domain Hosting Company in Bangladesh
Using a generic email address such as [email protected] or [email protected] is not only unprofessional, but it also makes it difficult for clients to trust you as a business because anyone can sign up for a Gmail or Yahoo account, and many times your emails will be directed to your client's spam folder. Therefore, every business, no matter how small, should have a professional email address. You must must have a domain hosting account in order to create a business email. We've covered every aspect of how to get a domain and how to set up your free business email in this article.
What is a professional email
Your business/company name, such as [email protected] or [email protected], is used in a professional email. This demonstrates that your company has its own email address, which gives your customers confidence. Nowadays, there are a slew of other reasons to establish a corporate email address. Your professional email promotes your company, thus it's a smart marketing strategy.
Nowadays, rather of taking low-paying jobs, many people want to start their own businesses. It's fine to start small, but you must present your business in a professional manner if you want your target audience to trust you. With the advancement of technology, it is now only a matter of minutes to make your firm appear more prosperous.
How to open a business email address
To create a free business email account, you'll need a domain name and access to a web hosting service. There are now many web hosting businesses in Bangladesh that have a dedicated support team, so you won't have to worry about the language barrier, and your hosting crew will assist you with any technical issues you have. So, first and foremost, let's talk about how you'll buy a domain. It is only 1000 BDT each year
How to create a domain
As I previously stated, there are many bd web hosting businesses to choose from, therefore you can easily get a domain from orangesoftbd.com. Exonhost, webhostbd, and so on. These hosting sites make it simple to create an account in just a few steps.
Setting up your business name 
You must first come up with a business name and then check for availability. Our hosting site offers high-quality domain hosting packages, but the process is essentially the same if you've already chosen another hosting provider. Here's how to do it step by step.
You should begin by deciding on a domain name. It's preferable if your domain name is comparable to the name of your company. It's conceivable, however, that the name you want is already taken. In that situation, all you have to do is come up with a new name.
This sum is required to renew your domain every year. If you still haven't figured out how you want to start your business, don't worry; you simply have to pay 1000 bdt every year.
Your Business Email
After you've purchased your domain, you'll need to set up your free business email. To begin, log into your cPanel and follow the instructions. There is an option/button called email accounts in your cPanel once you've logged in.
GSuite is another option for establishing a business mailing address. This is a Google option that provides you with the benefit of providing your company an executive appearance.
As you can see, creating a business email address is simple and only takes a few steps. This email can be used to contact with clients, promote your business, and provide a professional image.
If you're ready to take your company to the next level, we provide a variety of domain packages as well as the greatest customer service.