Best Software Development Company in Bangladesh
In Bangladesh, there are several top software firms. However, just a few stand out for their quality and creativity. Orange Soft BD is one such company. Orange Soft BD is a software development firm that specializes in developing cutting-edge web and mobile applications. Their staff has a wide range of programming languages and frameworks under their belts, allowing them to design tailored solutions for their clients. Furthermore, they attempt to design programs that are both practical and enjoyable to use. The greatest software company in Bangladesh is Orange Soft BD. We provide outstanding software services in Bangladesh as a software firm.
Garments ERP
Point Of Sales (POS)
Hotel Management Software
Hospital Management Software
Restaurant Management
School Management Software
Account Management Software
Human Resource Management
Pharmacy Management Software
Courier Management Software
Super Shop Management Software
Customer Relationship Management
Why Orange Soft BD is the Best Software Company in Bangladesh?
Orange Soft BD provides development services and has experience with digital technologies to create a variety of small, medium, and enterprise-level software. Every organization, whether small or large, requires the necessary tools and efficient methods to run its daily operations. We understand their pain and have developed a number of solutions to address their issues, including Hotel ERP, HRM, Accounting & Inventory Management Software, POS System, Smart ERP, Garments ERP, and so on. Our software is cost-effective and secure, and it does not require any specific expertise to run. The system is simple to use even for non-technical people. In Bangladesh, we are known as the best software development firm.
Software and ERP Solutions in Bangladesh
Enterprise resource planning (ERP) is business process management software that helps a company to manage business processes and automate multiple back-office functions linked to technology, services, and human resources using a system of built-in applications. ERP and software solutions are the backbone of any organization that automates and promotes operations. Enterprise Resource Planning (ERP) assists organizations in operating more efficiently so that tactical decisions may be made that maintain them effective and productive. Orange Soft BD is a well-known ERP software business in Bangladesh that provides organizations with custom-made ERP solutions based on their needs. Our bespoke system is thoroughly specified and long-lasting in terms of organizations' long-term operations.
What Are the Advantages of Using Our Software?
There are lots of benefits to using our software. We have a number of tools that can assist you in running your business more efficiently.
1. Our software is designed to make your business run more smoothly. With our software, you can keep track of your inventory and sales. You may also keep track of your expenses. This can assist you in making better business judgments as well as learning more about your industry.
2. Our software is also designed to assist you in increasing your earnings. When you use our software to create online businesses and sell them to people all around the world, they can buy your things. Our software also includes effective marketing tools to assist you in spreading the word about your items and increasing sales.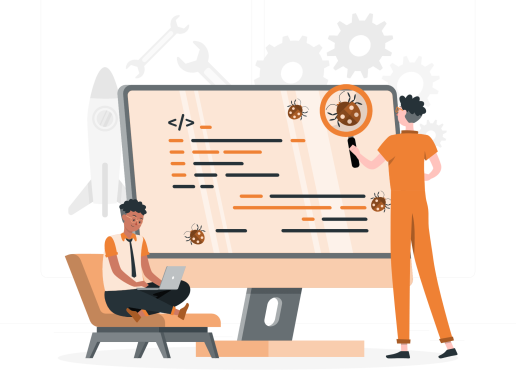 Who Is Suitable to Use Our Software?
A Small Company
We assist small businesses in achieving their aims and objectives by providing a variety of modest solutions such as websites, accounting management software, and so on.
Business for Corporations
We provide software for huge enterprises such as the garment industry, hotels, schools, and restaurants, among others. We offer HRM, Finance & Accounting, Hotel Management, Garments ERP, POS System, Libray Management, and other services. We can also create custom software to meet the needs of businesses.
Business of E-Commerce
All types of small, medium, and large enterprises can benefit from our end-to-end eCommerce website solutions. Our eCommerce stores are mobile, tablet, and desktop friendly.
Entrepreneurship
A startup business owner requires an effective solution at a reasonable cost. We offer high-quality software at a reasonable price.
Our Ready Software Services
We are experts at creating wonderful software. The most popular categories and types of software we deliver are shown below.

The Garment Manufacturing Company provides for humanity's basic requirements. This industry is thought to be the oldest. ERP stands for enterprise resource planning system, which is a collection of highly integrated real-time business applications that deal with software modules that share a common database and support the core business functions of production such as administration, logistics, manufacturing, sales, finance, and accounting.
For your finance or inventory needs, no more unsecured Excel sheets or Google pages. Orange Soft BD executes master level programming to design an ERP system depending on the needs of the enterprise. We offer the most up-to-date business management system that can gather, store, manage, and share data across all company operations. Users of ERP software can track and measure data to enhance corporate processes.

School Management Software
School management software is software that combines a well-integrated set of different tools to add significant value to your business while also improving the future of your students. Many schools nowadays use school management software to run their daily operations. Orange Soft BD collaborates with a large number of institutions in Bangladesh, including schools, colleges, and universities, to provide school management software.
Hospital Management Software
Our Hospital Management Software is a browser-based application that includes a multiuser account system, easy customization, and hospital-wide monitoring. Software for hospital, clinic, and diagnostic management. There are some notable features. OT stands for Out-of-Door, Indoor, Pharmacy. Accounts & Finance, Human Resources, Inventory, Payroll, SMS Notification, and a lot more.

Account & Inventory Management
Orange Account is a user-friendly browser-based accounting software for small businesses that combines multi-user easy accounting software. Our Orange Account can handle any type of record with zero errors, from accounting to inventory management. Boost your sales. With our multi-channel inventory management solution, you may expand your business online.
The human resource manager plays a vital role in the core development of a company. Recruitment process, Employee evaluation, Holiday's & absence management are the backend of a company. Paperwork work is irritating, time-consuming and is not 100% accurate. But when the technology comes to the playground then HR gets the perfect time to make better decisions.
If You Need Any of Our Software Services or You Have Any Queries About Software Services Don't Hesitate to Contact Us. We, the Orange Soft BD Team Will Always Be Here to Help You.