Best Ecommerce Hosting in Bangladesh Plans to Suit Any Business Needs
To make starting and running your online business as simple as possible, our eCommerce web hosting plans were designed. Host your store using Bangladesh's best and fastest eCommerce hosting. Use the best eCommerce hosting platform to run your online store and provide your customers a lightning-fast shopping experience. Our eCommerce hosting Bangladesh plans are better than the competition and let your business perform secure online sales. Choose our services for the best eCommerce hosting and a larger return on investment. With the help of our eCommerce website hosting, you can launch your brand from scratch by setting up your online store in just three easy steps. With Orange Soft BD's top eCommerce hosting options, you can instantly grow your online shop business!
Ecommerce Hosting in Bangladesh
We are grateful of your support and expect maintaining our business connection for a very long time. Managed e-commerce / online store hosting that is safe, expandable, and performance-focused improves your entire hosting experience so you can concentrate on maximizing your growth potential. Various small and large-scale businesses have benefited greatly from Orange Soft BD's assistance in setting up an online digital store. Additionally, we understand how to create an e-commerce website that may truly influence your visitors to make an online buy. Many corporate and governmental organizations in Bangladesh rely on us since we are the industry leader in web hosting for Bangladesh. In addition to offering the most affordable ecommerce solutions, we also build e-stores with the most up-to-date ecommerce features, such as mobile responsiveness, cart integration, and SM integration. Additionally, all of our plans have an easy-to-use CMS because we are a certified cPanel partner, which can make your online expansion even easier.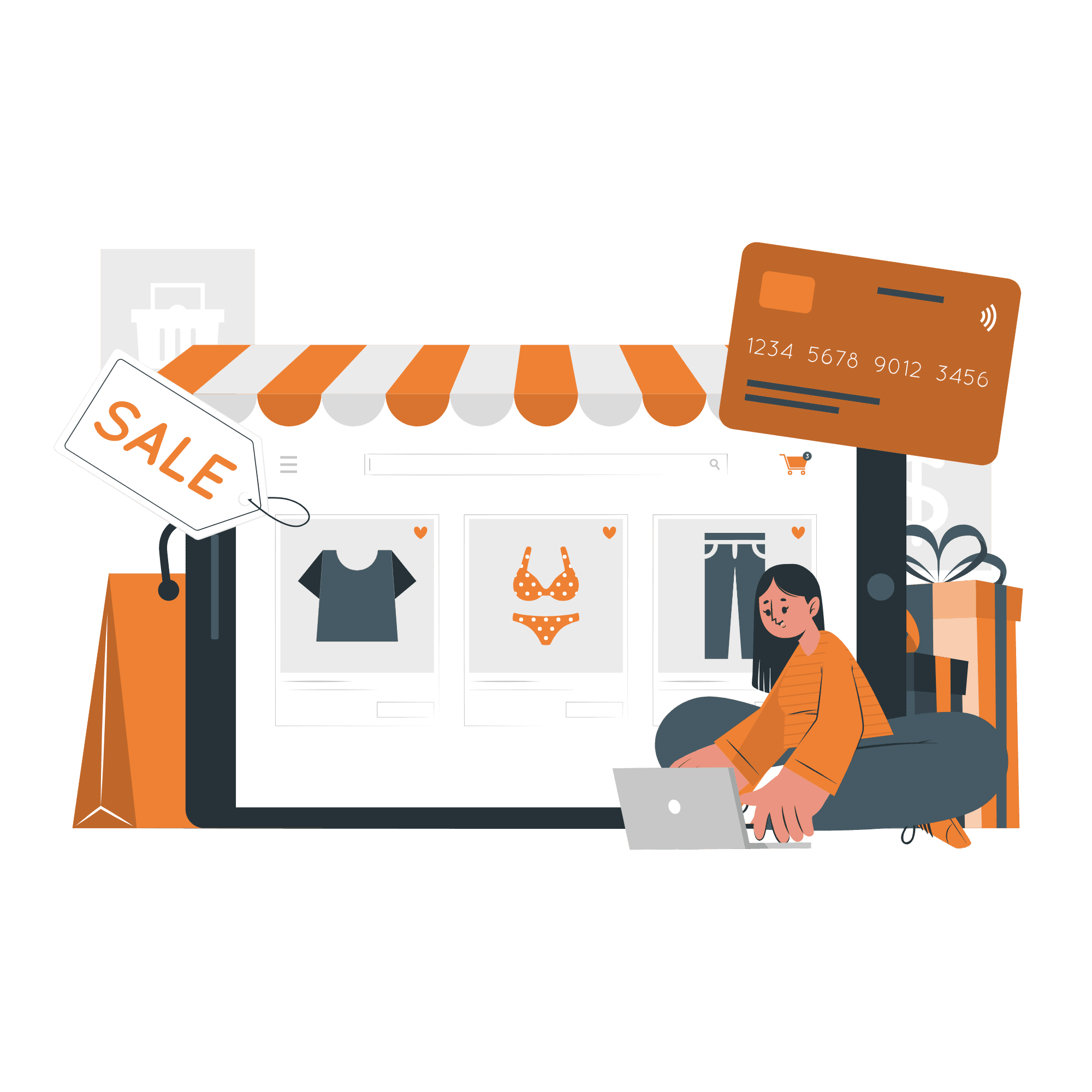 Why Choose Our Ecommerce Hosting in Bangladesh?
We guarantee to provide you with the best and most complete e-commerce hosting available. With everything you need for your online store, including lightning-quick site performance and a simple onboarding process, you get it all. Use the best e-commerce hosting company available to host your website.
Powerful Hosting
To give you the finest ecommerce hosting experience possible, we guarantee that our servers are adjusted and optimized. Continue operating your internet business without concern for outages or crashes.
Online Store Consulting
When it comes to hosting an eCommerce website, we've got you covered. Our team of professionals recommends plugins, upgrades for your applications, and even assists you with database problems.
Customer Support
Your questions can always be answered by our support staff. Whatever issues you may be experiencing, we will be aware of them and offer a prompt resolution. We always reply to emails and chat requests. That is our pledge!
Orange Soft BD eCommerce Hosting Features
1. Up to 40% increase in CPU performance
2. Increase traffic by 9X to boost SEO rankings and boost conversions
3. All plans feature lightning-fast SSD storage, while Turbo plans feature 3X faster NVMe storage.
4. 20X faster page load times will raise consumer satisfaction and SEO rankings.
5. Software optimized for WordPress, Magento, and OpenCart
6. WooCommerce, OpenCart, osCommerce, PrestaShop, and a number of other well-known eCommerce platforms may all be deployed with just one click.
Orange Soft BD eCommerce Hosting Benefits
1. Caching is a feature of Orange Soft BD Hosting Servers that keeps all of the HTML content of your pages in memory for maximum efficiency.
2. For quicker page loads, select data center locations near your website's users.
3. Managed plans take care of maintenance, patches, and upgrades for you.
4. Improved security, free SSL Certificate included
5. A 99% Uptime Commitment with round-the-clock network monitoring and support
6. Money-back guarantee without hassle. If you not satisfy our services you can request for refund.
Full-Service Ecommerce Hosting So You Can Focusing On Productivity
All the tools you need to improve, speed up, and make your e-commerce sites ultra-secure. You may quickly and easily install the most popular eCommerce platforms using the Orange Soft BD Hosting Control Panel. A sample of the online shopping software we offer to our clients is listed below.
WooCommerce
A WordPress plugin that is accessible for free and makes it simple to build an e-commerce site. WooCommerce has a variety of extensions available for better functionality and gorgeous themes.
Magento
Some of the biggest brands in the world rely on the eCommerce platform and software solution known as Magento. Use Magento and have faith that it will aid in the expansion of your online business.
WordPress
With our managed WordPress hosting, server-related difficulties are eliminated, allowing you to scale your online store however you like. For lightning-fast speed, our WordPress-focused services leverage cutting-edge caching CDN.
Prestashop
With PrestaShop's free shopping cart software, setting up an online business is simple. Start selling your product online right now with PrestaShop's many effective features.
OpenCart
Your quick, approachable, and responsive eCommerce solution is OpenCart. To guarantee you have total control over your store, OpenCart provides an easy-to-use control panel.
Core PHP
Our managed PHP hosting service offers the most flexibility, freedom, and convenience possible to ensure that the implementation of your e-commerce store goes off without a hitch.
What is Ecommerce Hosting?
Electronic commerce is referred to as eCommerce. It refers to any type of business or commercial transaction that includes online information transmission. An eCommerce website's strength is online purchasing and selling of both tangible and intangible goods. Businesses can engage in business-to-consumer (B2C), business-to-business (B2B), or consumer-to-consumer (C2C) eCommerce (C2C). The fundamental goal of an eCommerce website is to make it possible for businesses and customers to participate in the global market and online economy without having to overcome any time or distance limitations. A direct link between businesses and customers is formed through online eCommerce. Online auctions, online shopping, online banking, electronic payments, and online ticket booking are a few examples of eCommerce websites.
What is the Best Hosting for an Ecommerce Website?
Orange Soft BD can be first on your list if you're seeking for the best web hosting for eCommerce. We provide the top eCommerce hosting packages that will give your customers a lightning-fast browsing and shopping experience. We offer hosting packages for e-commerce websites starting at TK.1400/Year. Additionally, we provide free SSL, unlimited bandwidth, WordPress optimization, site backups, and other tools to make it easy for you to sell online. Look nowhere else! Join the best eCommerce hosting plan today to get started with your online sales!
What Kind of Hosting Do I Need for Ecommerce?
Nowadays, there is a great increase in demand for eCommerce businesses. It is insufficient to simply have a well-designed eCommerce website that displays all of your goods and services. You must pick the best eCommerce hosting solution in order to make your online store available to users. Here, hosting companies for e-commerce websites like ours provide you with a platform to host your e-commerce website. This implies that we provide the server space and other services required to ensure a seamless hosting experience for you.
What Ecommerce Applications Are Supported on Our Platform?
We provide support for all widely used platforms, including Opencart, WooCommerce, PrestaShop, and Magento. All of these applications may be set up with a single click on the cloud server of your choice.
Our platform's ability to support virtually all PHP-based apps is a plus. Therefore, our Platform provides a quick and safe basis for your unique estore if you have a bespoke PHP store.
Our managed hosting enables you to concentrate on expanding your e-commerce business because it is built on a quick, secure, and scalable infrastructure. Skip the headaches of hosting and optimize your room for expansion.