Multiple A B C-Class SEO IP Hosting In Bangladesh
Our C-Class IP hosting options for the USA and the rest of the world provide you an advantage over your rivals. When it comes to boosting your link popularity by assisting you to receive the maximum juice from your incoming links, Class C IP hosting is one of the best options. Webmasters may maximize the effectiveness of their SEO optimization strategies and raise their search engine ranks by utilizing SEO IPs in marketing campaigns!
We provide webmasters and SEO firms with a variety of SEO Hosting solutions. We have a pool of A-class and B-class IPs as well as dedicated IPs with VPS SEO Hosting available to support your SEO operations, so we are not restricted to C Class IP Hosting. There aren't many web hosts that provide A-class IPs. It is essential to have an SEO Hosting package if you are serious about ranking highly on search engines. We are dedicated to providing the best SEO hosting at all times.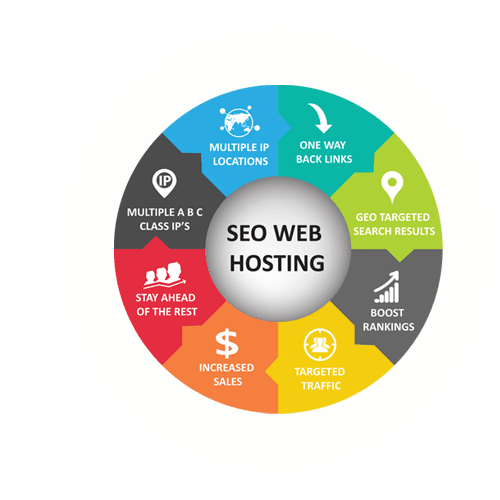 USA C-Class SEO Hosting Plans
Europe C-Class Shared SEO Hosting Plans
Asia C-Class Multiple IP Hosting Plans
Use our Asian C-Class IPs to host your blog network, doorway pagers, e-commerce website, and forums. In addition to providing quick loading times for Asian clients, our Asian Data Centers in Singapore, Hong Kong, Japan, and India will immediately improve local Search Engine results for webmasters and businesses in the Asia region. Our Asian C-Class Hosting Plans will ensure a quick access to that part of the world, which has a population of close to 5 million people and is the fourth-largest financial center in the world.
SEO Asia Hosting 1

TK. 1850 /Per Month

  6 C-Class IP's
  6 GB Space
  600 GB Bandwidth
  15 SEO Features
  Technical Specs
SEO Asia Hosting 2

TK. 2850 /Per Month

  8 C-Class IP's
  8 GB Space
  800 GB Bandwidth
  15 SEO Features
  Technical Specs
SEO Asia Hosting 3

TK. 3650 /Per Month

  12 C-Class IP's
  12 GB Space
  1200 GB Bandwidth
  15 SEO Features
  Technical Specs
SEO Specialist with 4 Years in SEO IP Hosting Business
24/7 Friendly Support
Our internal team is on call around-the-clock to address any technological concerns and offer advice on online success tactics.
99.9% Uptime with SLA
Orange Soft BD is where The availability and uptime of your website are given top priority. This is roughly by our server uptime guarantee.
30 Day Guarantee
Test out our services risk-free! If you're not pleased, you may cancel your subscription within 30 days and receive a full refund.
Global A-Class SEO Hosting Plans
On the entire Internet, there are only 127 A Class IP networks! As a result, for SEO and ranking purposes, Google and other search engine algorithms exclusively focus on various C-Class IPs. Due of the enormous quantity of IPs (16 million per each A-Class network) compared to the total Internet, Google will not concentrate on various A Class IPs. Because of this, using A Class IPs in Google's and other search engines' ranking matrices would not produce useful data. A Class IPs are the most valuable IPs in SEO Hosting and are primarily utilized by SEO experts and SEO firms to host commercial websites.
Global B-Class SEO Hosting Plans
B-Class IPs are comparable to A-Class IPs, however in the field of SEO hosting, their worth is ranked lower than Class A IPs and higher than Class C IPs. There are only 16,000 B-Class IP addresses available globally on the Internet. Based on how Google's algorithms operate, they only concentrate on various Class Cs for SEO and ranking objectives. Because a Class B is such a large IP space allocation in relation to the entire Internet, Google will not concentrate on distinct Class Bs because doing so would not produce useful data for Google and other search engines to utilize in their ranking matrix.
Our All SEO Hosting Features
300% Faster with SSD Speed Boost
Compared to conventional servers with standard hard drives, SSD Speed Boost technology can result in page load rates that are up to 300% faster. Super fast SSD derived used in our all server.
Numerically unrelated unique IP's
Our global SEO IP networks are owned by a variety of different businesses across the globe, ensuring that each owner's ownership details and data center location are distinct from one another and that there is zero IP footprint.
Host Unlimited Domains Per IP
Each SEO IP address can host an unlimited number of addon domains, which you can control through the cPanel interface. In addition, we provide Web Hosting Manager for controlling your cPanel accounts.
Separate cPanel for Every C-Class IP
Worldwide, there are numerous data centers where IPs are housed. We attempt to avoid hosting all cPanel instances on the same server or data center, unlike other SEO hosts.
Separate Class-C IP Nameservers
Use different domain nameservers to give the impression that you are hosting your domains with different web hosting companies. We provide separate IP for different name servers.
Multiple c Data Centers
Africa, Asia, Australia, Europe, North America, and South America are just a few of the continents where we operate more than 25 global data centers.
Multiple IP SEO Hosting FAQs
What is SEO Webhosting?
Multiple C-Class IP SEO Webhosting, which is integrated into the webmaster, enables it to host websites from a particular control panel and assign various C Class IPs to different accounts. It should be noted that all SEO hosting plans do contain branded name servers that are housed on unique C Class IP addresses.
Why Use SEO Hosting?
You can gain links from other websites you control by using C-Class SEO hosting. So it's wonderful for SEO if you own, let's say, 25 websites and each of those 25 websites links to another website, right? Many SEO experts believe that Google considers the C-Class IP that the websites are housed on, and if multiple websites are hosted on the same IP, Google will either devalue the links or, in extreme circumstances where there are extensive link networks, may even punish you.
Why Choose Orange Soft BD as Your SEO Hosting Provider?
We at Orange Soft BD have been in the SEO-Hosting industry for the last 4 years and have a great track record to prove it. With numerous favorable testimonials from clients from diverse backgrounds, Orange Soft BD can proudly boast its success in the market over the past four years. This explains why we are a preferred SEO hosting partner for many companies.
Why Orange Soft BD SEO IP Price is Low? Is there any Catch?
The hosts typically need to maintain sizable IP pools, which add up to an overhead expense for your hosting plans, in order to give several C-Class IPs. For instance, there are occasions when a host must maintain a 1000 IP pool in order to give you 100 C-Class IPs. Due to Orange Soft BD's position as a leading provider of web hosting, we are able to use the remaining IPs from our SEO IP pool for common customer needs like installing SSLs. Since no IPs are wasted at Orange Soft BD, we can provide our SEO Plans at a 5–6 times lower price than our rivals.
Hosting for SEO to Boost Traffic & Ranking in SERPs. A fundamental need for maintaining high SERP ranks is speed. Your website will load rapidly thanks to our top SEO hosting, helping it to be ranked higher globally.