Best WordPress Website Speed Optimization Services
Your site's speed is important! Depending on how quickly your website loads, you may gain a lot of consumers or lose a lot of people. Our WordPress website performance optimization services can increase the likelihood that your project will be successful. Having trouble locating WordPress speed optimization specialists? Finding the best people for your projects is really difficult.
We have your back. Our WordPress speed optimization specialists are prepared to assist you in successfully completing your upcoming major project. Your WordPress site will run more quickly, which will improve user experience and draw in more visitors. Ensure that your website loads quickly to impress both bots and potential clients. To fix the issue with the slow website, optimize your large photos, texts, and videos.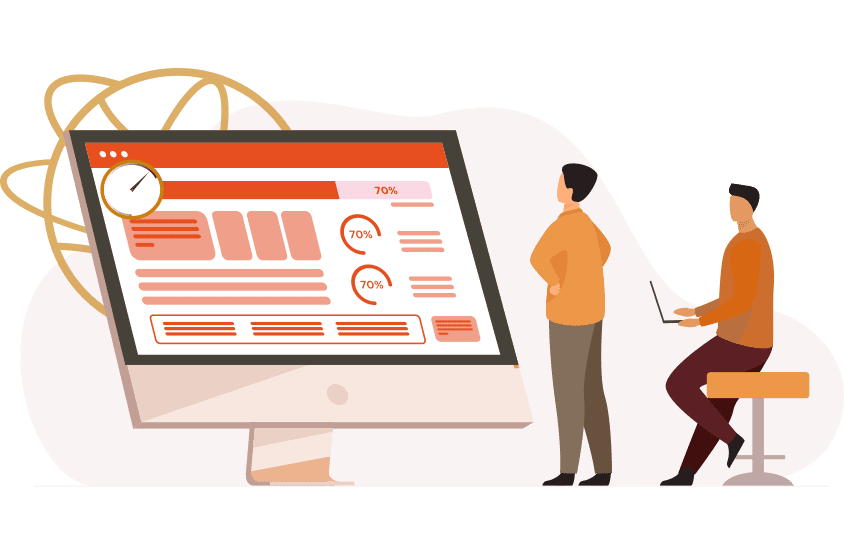 Our WordPress Speed Optimization Service in Bangladesh
WordPress is the most popular content management system (CMS) platform globally, with a market share that exceeds 61.8 percent. Whether you own a tiny business or an e-commerce portal, it would be sage to contact a WordPress performance optimization service. We have a battalion of knowledgeable and experienced developers who can optimize WordPress. We provide website creation services that take use of WordPress's CMS platform's flexibility, reliability, and upgradeability. You may speed up WordPress on your website and use fewer resources by using our speed optimization service. Additionally, we employ assistance to acquire a straightforwardly constructed website with improved security and we look at plugins thanks to WordPress performance optimization.
WordPress Website Speed Optimization Before & After GTmetrix Reports



Benefits of WordPress Website Speed Optimization Service
WordPress Controls 35% of the Internet. And there's a good chance that WordPress was also used to build your website. WordPress offers convenience and ease of use, but your website can still easily grow large and take a while to load. Here's where we step in. We are experts in WordPress performance optimization and website speedup. We can speed up the loading of your WordPress website to under two seconds.
Hosting Migration
The main component in increasing the speed of your WordPress website is hosting. For the greatest performance, we suggest using the best managed cloud hosting. For faster loading, we also employ Maria DB 10.5 and PHP 7.4. Additionally, increasing the memory allotment to 256 MB is crucial. Don't worry; we'll help you through every step, including server upgrades and setup adjustments as well as migration. We also keep an eye on the hosting company's resources and recommend adjustments as needed.
Browser Caching
Caching improves and accelerates browsing. It is currently the most useful technology. Your WordPress website's browser caching is configured by us. Consequently, it guarantees that your web pages load quickly. Your website is saved in the user's browser as a cached copy. Therefore, it won't take long for the user to access your website after opening it. They won't have to load the entire page because they will locate a quick-loading cached version of it. Browser caching enable speed up your site.
Enable CDN
Your website's performance will soar to new heights with a WordPress CDN. It will be completely accessible to users. We can help you build up a Content Delivery Network for WordPress that is quite helpful for people who receive a lot of daily traffic. Additionally, it is a wonderful choice for websites with a lot of material. You may rely on our professionals to assist you in configuring your DNS, page rules, Railgun, and firewall rules. We also offer advice on the type of CDN you ought to utilize.
Image Optimization
When photos are optimized, a fantastic balance between excellent image quality and a super-quick load speed is achieved. All of the photos on your site pages will be optimized by our WordPress speed optimization specialists without sacrificing visual quality. They take great effort to make sure that the image resolution and size are ideal for your website. Every image is optimized using lossless compression. Any photos you upload subsequently may be automatically compressed by our experts. Image optimization is most important for speed up.
Minify JavaScript and CSS
HTML, CSS, and JavaScript code in web pages and script files are minimized through the process of "minification." Your WordPress website loads faster and uses less bandwidth as a consequence. Our WordPress developers research the best ways to decrease the delivery of CSS or JavaScript while still maintaining all of your website's features. The chosen CSS and JavaScript files are then compressed and minified. It enhances the website's accessibility and speed. Even with a limited data plan, your visitors can still access your website.
Database Cleanup
A vital maintenance chore for WordPress optimization is database cleansing. Your website's page load times are reduced. Many plugins for database cleansing don't fully optimize the database. Our WordPress experts carefully go through the entire database and eliminate unnecessary data, such as old plugin transitory life and leftover plugin tables. Along with other website optimization strategies like caching pages, image optimization, and similar ones, we carry out this task. This will prevent your database from bloating up with unnecessary data.
WooCommerce Optimization
Revenue increases as a result of WooCommerce optimization. It improves reaction time and load to improve site performance. The user experience is also enhanced. The scripts, cart components, and styles of WooCommerce websites are optimized by our WordPress website speed optimization specialists. Websites built with WooCommerce are distinct from regular websites. They require more plugins and server resources. So, optimizing these sites is even more crucial. They will load slowly if they are not optimized. The user experience is adversely affected.
Lazy Loading Of Media
Performance is improved by lazy loading, the practice of postponing the startup of resources until they are actually required. It conserves system resources as well. This type of media loading on your website is optimized by us. Call-outs are kept to a minimum because our professionals take care not to use external JS libraries. The cache plugin often uses lazy loading. However, we also offer a number of substitute lazy load plugins that help speed up the loading of your website's material. Lazy Loading improve your website and grow up your loading speed.
Assess Server Response Time
The amount of time it takes for your server to react to a visitor's request is known as the "server response time." WordPress websites that are too slow to load are caused by inadequate servers. Our WordPress experts will skillfully evaluate the capabilities of your hosting company and recommend any necessary adjustments. We will move your site to a fully managed WP hosting environment if we discover that the provider isn't decreasing your server response time. We will effectively address the underlying problems that are causing sluggish response times.
Why to Choose WordPress Website Speed Optimization Services?
We are one of the top WordPress performance optimization companies, and our team of developers has extensive industry knowledge. Any assignment can be successfully completed by our staff. Your website will load in under 2 seconds thanks to us!
100% customer satisfied:
In every project they work on, our professionals aim to completely satisfy the client. So, anticipate nothing less than outstanding outcomes. Let go of your website's sluggish performance.
global reach:
It makes no difference where you reside. By using our service from the comfort of your home, you may accelerate your WordPress site. Worldwide clientele are served by us.
Work is completed on time:
Deadlines are not a fear for our expertise. We recognize how valuable your time is. So, from the start, we treat deadlines seriously. It helps us to promptly carry out your request.
committed teams:
We fully comprehend all of your project's requirements. We then deploy specialized teams to handle your work. It guarantees that every stage of your project is finished on schedule and to your expectations.
successful team:
We are a multifaceted group of skilled copywriters, marketers, and web developers. Our team's composition enables us to manage any type of customer project.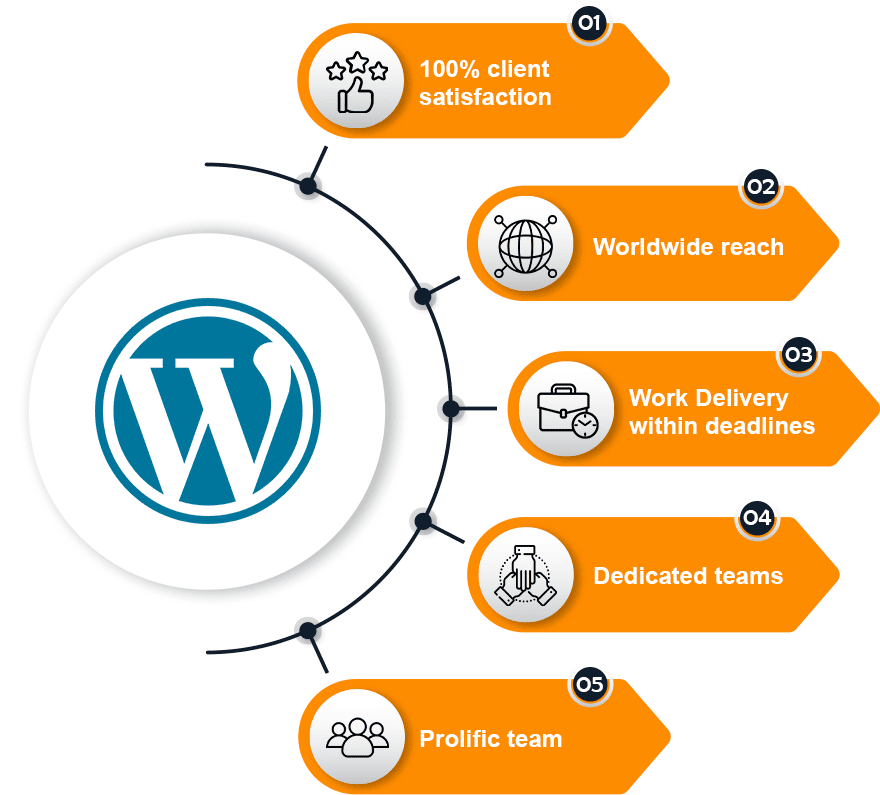 Why Opt for a WordPress Website Speed Optimization Service?
It's Not Always Simple To Switch Hosts:
One of the most important things for people to comprehend is that switching hosts does not always cure problems. It's possible that your WordPress site has coding errors or plugin compatibility issues. No matter where your website is hosted, these problems will still exist. The managed host will help you, but they won't fix a problem brought on by a subpar plugin. At that point, a WordPress Optimizers service will investigate the problem further and identify its root cause. The Optimizer service, which is capable of writing PHP code, is not the responsibility of the WordPress host. They have the ability to design or modify unique plugins and theme features. Additionally, they can implement website content changes or integrate or troubleshoot assistive technologies.
Active Websites Should Not Be Used:
Using production sites for development shouldn't be done. Nowadays, almost every significant managed WordPress server offers environments for testing and development. It prevents lengthy site outages brought on by users accidentally damaging things while testing on the live site.
When creating locally, there are other problems that can occur, such as incompatible site environments. To start, you need to figure out how to send changes without destroying your website or reformatting currently useful data. Depending on how you have things set up, this process could add another layer of complication. Other challenges can include having to resolve port conflicts or errors brought on by a different version of MySQL.
WordPress speed optimization expedites your workflow when using WordPress locally to get around some of these issues. By making necessary adjustments to your production's built-in tools and features, such as WP-CLI and multisite support, you can apply enhanced ways. Services for WordPress performance optimization also provide support for several sites. Dealing with large local installations, which might be challenging for an individual to handle alone, is made easier by this.
An Effective Website Results From an Effective Supplier:
The hosting company used by a website is an essential element. Making wise decisions will pay off in the long run. Choose a host that provides scalability capacity, backups, performance guarantees, and safe hosting. Multiple hosting Individual websites can choose from a range of alternatives and customizable plans that are suited to their needs thanks to WordPress page speed optimization. You could be able to handle an increase in visitors with a high degree of performance, strict security, and adaptability.
Boost the Efficiency of Your Database:
The database, which is periodically accessed by servers, plays a significant role in determining how well a website performs. Many plugins can help you clear the clutter, get rid of the things you don't need, and fix and improve your database. With a quick, highly responsive database, your website will operate more quickly and efficiently.
Resource Consumption is Reduced With WordPress Optimization:
The initial website page loads faster than the JavaScript file does. But everything hinges on balance. Your website's stability must not be negatively impacted by the minification process. Compression of the HTML, JavaScript, and CSS files hastens the loading of the WordPress website. We will never skimp on either speed or stability.
Caching Plugin Installation Performance Enhancement for WordPress:
A CDN (Material Delivery Network) will speed up your website by reducing the geographic distance traveled by your material. The WordPress optimizer can also automatically install plugins for browser caching. This promotes repeat visitors and speeds up website optimization load times.
WordPress Website Speed Optimization FAQs
Why is WordPress Speed Optimization Important?
The performance and speed of the website will greatly increase if you optimize your WordPress speed. Once it occurs, it will promote your website and eventually lead to an increase in the number of visitors to your website. Customers like a website that loads in just a few seconds and offers excellent user experience.
Can I Speed Up My WordPress Site Without Plugins?
Yes, there is a wonderful possibility to optimize your WordPress site if you use the proper plugins. You must alter the settings for it. Therefore, WordPress is a very effective tool for improving the performance of your website. You may optimize all of the photos and update them as needed by using a media library. Additionally, you discover a need for controlled minification of HTML, CSS, and JS files in accordance with your requirements.
How Do I Check My WordPress Speed?
You can use the following performance testing tools to examine your WordPress speed:
1. Pagespeed Insight for Google
2. Tools GTmetrix Pingdom
3. WebPageTest.org
4. 24/7 Uptrends Website
5. Test of Google Mobile Speed
How Do I Optimize/ Increase My WordPress Speed?
There are seven techniques you may use to enhance or speed up WordPress:
1. Improve your picture
2. Adapt it to mobile devices
3. the GZIP compression setting
4. files for CSS, HTML, and JS
5. Plugin updates
6. You should turn on caching.
7. database cleanup
Are you experiencing issues with your website being too slow? Let us assist you in finding a solution! By using GTMetrix and other speed testing tools, we will endeavor to speed up the loading of your website and increase its ranking. We recommend lightning-fast hosting, optimize your photos, activate caching, reduce files, and enable site compression.