Hospital Management Software
Services that integrate and make it easier for healthcare personnel to work with patients are part of a hospital management software. A hospital would not be able to honorably maintain good personnel, care for patients, or generate decent money without a comprehensive healthcare facility management system. To give hospitals the best means of managing their company, Orange Soft BD has created and produced a Hospital Management System Software. Our hospital management system manages various process regulations for hospitals and clinics. It also acts as a regulatory body for the administrative, medical, legal, and financial aspects of healthcare. E-health is a very successful and successful strategy thanks to our Hospital ERP solution, which focuses on excellent coordination between Healthcare businesses like Hospitals, pharmacies, Polyclinics & Clinics, and patients. The work of healthcare professionals and how they interact with patients is made simpler by our HMS software. All industries are now controlled by modern technology, but the hospital or healthcare industry is the most sensitive because it deals with the health and lives of people. Consequently, you must pick your program carefully.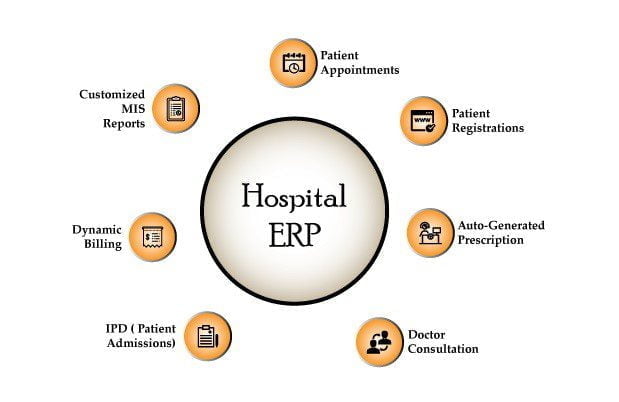 Details of Our Hospital Management Software's Features
1. Patient Registration
2. Indoor Management
3. Doctor Appointment Scheduling
4. Doctor Consultation Management
5. OT Service Management
6. Account Management System
7. Bed & Wards Management
8. Patient Relations
9. Employee Management
10. Hospital Payroll Management
11. Out-Door Management
12. Out-Patient Management
13. Doctor Service management
14. Patient Billing
15. Pharmacy Management System
16. Doctor Service Management
17. Inventory Management System
18. Stock Details Modules
19. Patient Admission
20. SMS sending Facility
21. Lab Information System
A Hospital Management Software Solution Should Have These Top Features

Patients' information or data are consistently available in our hospital management system database. Doctors may quickly access the patient's medical history, test results, and prescribed treatment in order to do an accurate analysis and keep track of their health. It permits lower risks of error. Using our software you can manage easily to patent information.
All relevant documents are kept in our hospital management system's (HMS) database, along with all patient information. In order to get a precise conclusion and assess the patient's health, doctors can quickly access the test results, the patient's history, and the prescribed therapy. There are fewer chances for mistakes. Our software manage your medicate database.

Our hospital is a commercial organization that consists of all pertinent financial connections between a service provider, executives, clients, vendors, insurers, etc. The staff enters charges as the patient receives treatment. Prior to a patient being discharged, a bill was generated. The hospital management system ought to provide a variety of payment options for its goods and services.
By monitoring the doctor's availability, HMS software enables your reception to schedule appointments for patients with the doctors they desire based on the specialism needed. Patients can make appointments both online and offline. A good scheduling strategy minimizes patient wait times while making efficient use of the doctor's time.

This option primarily serves as a starting point for the doctors and consultants at your hospital to evaluate patients, administer tests and treatments, and create prescriptions for them. Additionally, a doctor might use this to note a patient's symptoms, allergies, and suggested drug information. You can easily manage doctor.
Our hospital management system can very seamlessly manage the pharmacy at your hospital as well. Additionally, you can immediately bill the inpatient's main billing system and collect medication just like your patient did. Additionally, this module keeps track of all drug or medicine inventory and automates your system.
Benefits of Hospital Management Software
The ERP systems Orange Soft BD processes are designed to give different clinical and professional tools that management and providers want and require. It is well known that many healthcare organizations prioritize back-end operations, cost control, and profit maximization while simultaneously enhancing the standard of medical service. You can be confident that all of the objectives outlined above may be readily attained with the aid of ERP systems by streamlining business operations, according to our domain experts with years of expertise. We take all of our clients and the projects we work on very seriously, and we'll keep doing that while also creating the best software solutions for the healthcare sector.
If You Need Any of Hospital Management Software Services or You Have Any Queries About Software Services Don't Hesitate to Contact Us. We, the Orange Soft BD Team Will Always Be Here to Help You.