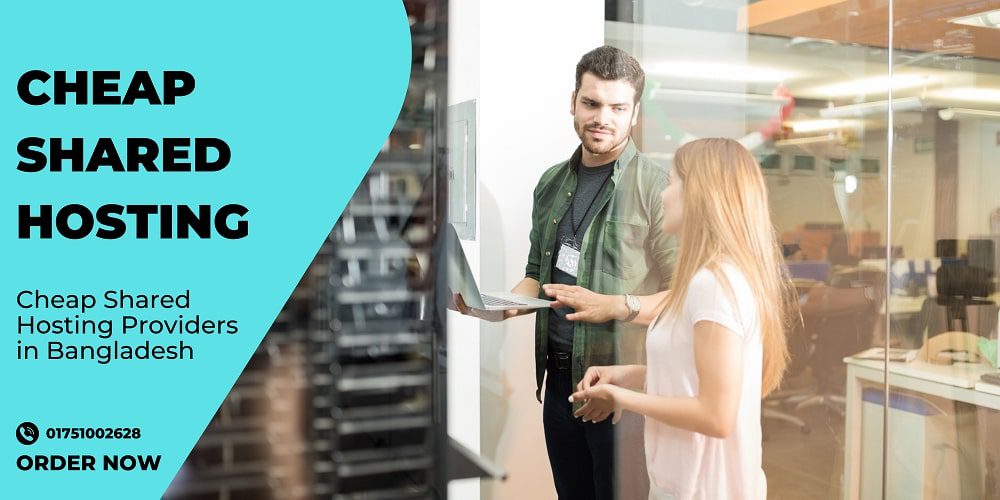 Cheap Shared Hosting Providers in Bangladesh
With each day, web hosting services are becoming more and more important. Online services are a necessity for all prominent business. To increase visibility for any company, you should be present on social media. Practically, the internet has become essential to all business types. Therefore, in order to conduct business online, everyone needs a website. Numerous web hosting firms are currently providing affordable hosting services to meet consumers' needs. In search of cheap shared hosting companies in Bangladesh 2022
We'll discuss about Bangladeshi cheap shared hosting companies today, in the mid of 2022. How can a customer choose from among the many, popular, and trusted web hosting service providers the best hosting service at a low cost? Right now, we're comparing some of the best hosting companies and the benefits they offer. Let's get back to the subject.
Bangladeshi Shared Hosting at an Affordable Pricing
There are so many currently operating web hosting organizations that sell as well as provide affordable web hosting services. Before using their services, the first thing you must do is to check. You may find web hosting reviews on the internet's countless webmaster forums and websites, which will let you assess the offerings before making a purchase. Many hosting providers in Bangladesh give cheap prices for their services. However, you must choose which business is offering their best service and support at a good price. The top cheap shared hosting company, Orange Soft BD, offers the best customer support with 100% happiness both domestically and globally.
What Is Web Hosting?
Let's talk about what web hosting is and how it performs. Web hosting is a service offered by a web hosting company where you can store all of the essential documentation, graphics, audio, and video files which were used to create your own website and all associated material. Web hosting services come in many different forms, including inexpensive shared hosting, dedicated hosting, and VPS hosting. You can choose the inexpensive shared hosting package to meet the needs of your desired little business or commercial website.
Shared Hosting: What Is It?
Shared hosting is multiple websites are hosted on a single server. Where customers keep their website data is completely up to them. They all have individual data locations. Customers are unable to access each another's files. The small company website might advantage from shared hosting in a number of ways. A cheap shared hosting provider offers a well-known, funding hosting package that is simple to use and administer through the cPanel or DirectAdmin management panel. With shared hosting services, you can host several domains.
Comparing Businesses:
The Bangladeshi web hosting industry has a large number of web hosting businesses. However, a select handful of them stood out for their dedication and dependability in providing the greatest service. It is hard for a company offering web hosting services to be totally reliable and perfect before you choose them. Therefore, Orange Soft BD is actually the top hosting provider in Bangladesh. To ensure that you obtain the best web hosting at the lowest hosting prices and the strongest support for your website, let's compare their services to those of other reputable inexpensive shared hosting companies.
| | | | | | | |
| --- | --- | --- | --- | --- | --- | --- |
| | Orange Soft BD | Namecheap | Hostgator | Hostinger | SiteGround | GoDaddy |
| Domain | 1 Domain | 3 Domain | 1 Domain | 1 Domain | 1 Domain | 1 Domain |
| Free SSL Certificate | Yes | Yes | Yes | Yes | Yes | No |
| Free Auto Website Backup | Yes | No | No | No | No | No |
| Yearly Price | 1000 TK | 2449.63 TK | 3123.56 TK | 3964.08 TK | 428968.66 TK | 7939.52 TK |
With the aid of all that comparing analysis in table, we can identify the many variations among hosting companies. Each supplier of web hosting services gives their services in their own way and aims to please their clients. However, if you are a website owner looking for the greatest service on a tight budget, you're invited.
Many hosting firms charge a high prices for their services. On the opposite side, many hosting providers offer their services at a discount and continue to provide reasonable hosting with a large number of satisfied customers. Which website hosting company offers the finest service and support at a competitive rate is the major focus of this discussion. After all, Orange Soft BD is here, offering the best service and Cheap Shared Hosting package at the best possible price.
Orange Soft BD  offers a cheap SSD web hosting service for 1000 TK per year that includes 1 domain, a free SSL certificate, a one-click Softaculous app installer, along with the most widely used cPanel control panel. If you want more features, you can simply purchase our yearly package for long-term hassle-free use at a discounted price. The top hosting service provider in Bangladesh in the global web hosting market is Orange Soft BD. Orange Soft BD is your go-to person if you enjoy purchasing items at a discount. Because we continuously offer a variety of discounts based on holidays and other important occasions.