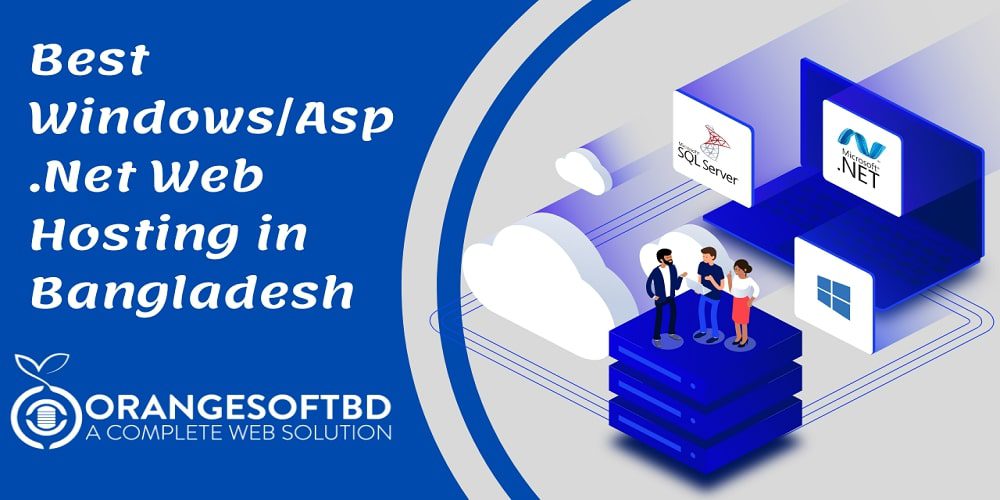 Best Windows/Asp.Net Web Hosting in Bangladesh
Asp.net and cheap windows hosting Bangladeshi host You must select a type of hosting service for your website if you want to run and maintain it without any problem. This part is difficult. because, you know, you have a domain name? But in this situation, you must pick the ideal infrastructure, like a Linux or Windows server. The important thing is that both have had a good reputation for a long time, but you have to pick the ideal one that you can manage easily.
A poor choice can have a negative impact on you. The ideal web host is aware of your requirements. Keep an eye out for "Orange Soft BD," a cheap Windows hosting company in Bangladesh. We provide a multi-server hosting environment with many powerful dedicated primary and secondary name servers. We are able to integrate new windows hosting software as it becomes available thanks to our licensing relationship with Microsoft.
We are available to provide you with the cheap windows hosting at competitive costs. We value customer delight over purely financial gain. Without any issues, you can obtain premium virtual private server hosting.
Why Windows web hosting is so popular?
Easy to used:
You are aware that Windows has a wonderful user interface (UI). Additionally, this operating system has an amazing software ecosystem and is quick, dependable, and secure. includes a number of the top web apps that we cannot live without using even for a single day.
Popular software like WordPress, Joomla, Drupal, PrestaShop, phpBB, and others are available for one-click simple installation in web hosting systems.
Instead of cPanel, Windows servers have Plesk, a beautiful and functional control panel. It makes it simple to check the status of your website, set up email accounts, change settings, etc. Git, Docker, and a number of trying to cut security extensions are also supported.
You must become familiar with the command line if you want to utilize Linux. It can be difficult for beginners to learn how to use the command line to combine multiple pieces of software. Accessing and maintaining your cheap windows hosting server is simple thanks to graphical user interfaces (GUI), which are user-friendly for beginners.
Business Environment:
It was created using Microsoft ASP.NET and MS SQL technology, so if you are comfortable with a business setting, it is a wonderful fit for you.
So use Microsoft Technologies to your advantage; it can provide excellent service at a very inexpensive cost. The OS is a superb choice for working in a complicated IT environment because it is constantly updated.
Compatibility with Software:
All Windows-based tools and software can be used with cheap windows hosting, including:
NET
NET Core
Microsoft SQL Server (MSSQL)
Crystal Reports
Visual Basic Development
C#
Microsoft RDLC Report
MS Exchange
Microsoft SharePoint
Advantages of our cheap windows hosting:
User-Friendly
Simple to Manage
Regular and simple updates
Uses scripting languages such as ASP, ASP.NET, Visual Basic, and C# 5. Ensures the security
You receive what from us?
Assurance of 99.9% uptime
Include databases in.NET, PHP, MSSQL, and MySQL
Assistance with CMSs including WordPress, Joomla, Drupal, and others
Personalized hosting plans based on client needs
There are no additional fees, such as setup fees or hidden costs.
Plesk Control Panel, Add-on, Database Manager, and more
Constant Phone, Email, and Chat Support
Free tools for building websites and sending emails
A Tier-4 data center equipped with modern technology
The six-phase server security system
Windows/Asp.Net Web Hosting:
The ASP.NET Web application framework is created by tech giant Microsoft and allows developers to create dynamic websites, services, and apps. Microsoft announced it as open-source in November 2014, and since then, the community has offered many wonderful features.
It primarily offers a setting that enables developers to perform tasks with minimal code. Using the application pool, it offers you the ability to separate applications that are hosted on the same server. Additionally, it provides powerful security. Mod mono, which supports Apache hosting, can be used.
Windows ASP.NET Shared Web Hosting in Bangladesh:
We are aware that site speed affects your conversion rate, SEO rankings, and bounce rate. Our rapid web hosting, which loads your dynamic websites swiftly, ensures your ongoing online presence.
We are able to achieve it thanks to state-of-the-art hardware, software, and a reliable network infrastructure. Enjoy the power of Plesk, the.NET Framework, MS SQL Server, SSL certificates, spam filters, WordPress Toolkit, etc. while keeping your mind at ease.
Make sure our Windows Servers are performing to their full ability as well. We make use of multi-core Intel Xeon CPUs, lots of RAM, and state-of-the-art SSD storage. Your website's chances of ranking higher are increased. Prepare yourself to move up in search results with up to 4X faster page loads.
Windows Reseller Web Hosting in Bangladesh:
You can develop a few big projects/websites at once or resell disk space and bandwidth to several clients by using reseller hosting. Windows reseller hosting frequently comes with billing and hosting management software. It helps in the creation of more affordable plans or bundles that you can profitably resell to clients.
Multiple databases, additional domains, and a 99.99 % uptime guarantee are all available to you. Your reseller web hosting package can be upgraded whenever you want. Please get in touch with us if you're unclear or have any questions so that our hosting experts can help.
FAQs:
What is the best shared web hosting for Windows ASP.NET Core?
It is the cross-platform, open-source.NET version. It is a small platform for creating web services and programs. As a result, you won't find any problems running any of your built applications on Linux, macOS, or Windows. To reduce workloads, ASP.NET Core was created. It cut short the runtime.
What does Plesk's Windows hosting consists?
Windows and Linux both use a different operating system. Microsoft, a tech titan, offers Plesk. It is software for a control panel. The graphical interface of Parallels Plesk Panel, which goes by its full name, makes managing your websites simple. Advice on home accessories
It improves website management for new users. No command memorization is necessary. It's a manual process that new users may find tedious. It is ideal for smaller teams without a background in development. Beautiful GUI dashboards can save your life and save you time.