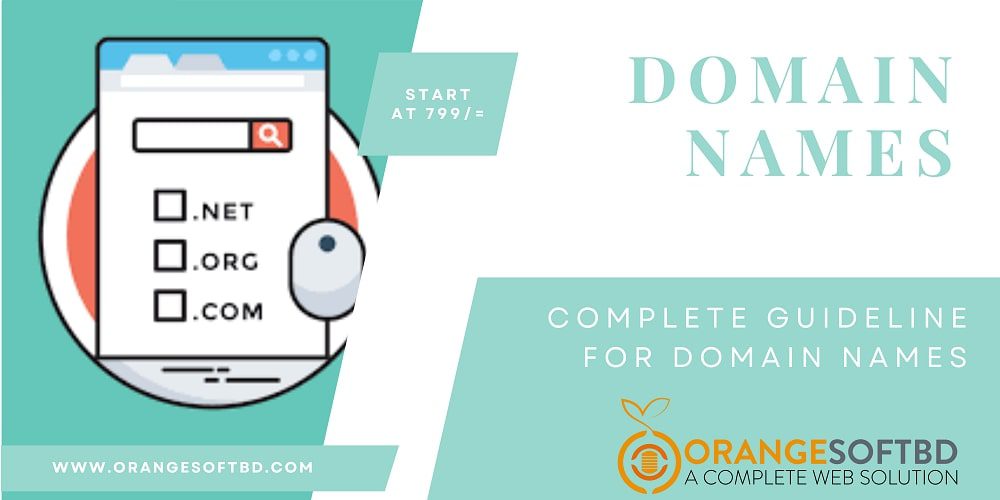 Complete Guideline for Domain Name
When visiting a website, you type a domain name rather than the IP address of the web server into the address bar of your web browser. It is possible for domain names to be field is required, which means that they may include both letters, numbers, and a few very limited symbols.
As opposition to its alternative, IP addresses, domain names are generally easy to remember, making them a packages offered for customers to know websites.
For a price, those who want to develop their own websites can buy the domain name of their choosing from a domain registrar. If they are unable to source their own website hosting solution, they can then move on to purchasing web hosting services from a web hosting provider.
However, you might find that the governing body of the TLD that you want to buy your domain name under may have specific restrictions in place on what you can name domains. Domain names can typically be anything that you want them to be because there is no governing body to say that you aren't allowed to have any specific domain.
In order to use your domain to host a web page under your account and not only be restricted to using the basic facilities like holding pages that come with many simple domain registrations, a domain is typically used in conjunction with a website hosting package.
A web hosting plan is a required add-on if you purchase a domain with the purpose of hosting any kind of website, as it is required for the web hosting of both small and large websites.
Many reputable web hosting businesses offer a free domain with their website hosting packages because the majority of web hosting providers also act as domain registrars and conversely.
As compared to a web hosting company that sells domains and focuses only on its web hosting packages and clients, there are businesses that are exclusively domain registrars and are typically able to give you with a more dedicated domain support service.
Customers of domain hosting are usually given access to a web hosting control panel so they may manage the web hosting plan they have purchased for their newly registered domain.
For instance, if you select a Linux domain hosting plan, you will likely discover that you are given access to the cPanel control panel to make it easy for you to manage your domain hosting plan.
You will probably be given access to the Plesk control panel if you have chosen to purchase a Windows domain hosting plan so that you may handle the different components of your domain hosting package.
Domain owners need hosting control panels because they want to be able to manage the many parts of their web hosting account using a web-based interface that they can access whenever they need to.
In the end, a domain is virtually useless if you don't have a website created or hosted for it because you won't have any content to share with visitors to your domain.
Since there are various services related to managing a domain in addition to basic web hosting, domain registrars and web hosting companies typically grant domain clients access to a basic control panel if they do not have any type of domain hosting.
The DNS system, which servers used to identify which servers are in charge of each different service needed for the operation of a domain, is at the core of any domain and the internet. Typically, DNS servers hold a domain's DNS record.
Because hosting a domain requires a multitude of choices, including mail servers, web servers, and name/DNS servers, the majority of domain hosts allow you to use your own name servers and modify the multiple DNS records as you see fit.
In order to point your domain to another organization, for example to verify that they offer web hosting services, it is important that a domain registrar enables you to change your domain's nameservers.
Long domain registration periods are advised since you don't want to register it and then forget to renew it at the end of its registration period, making choosing the length of time for which you register your domain vital. When a domain has been registered for a long time, such as five to ten years, search engines may also give it a higher position.
Although the that most of domain registrars and web hosting companies now let you "automatically" renew your domain, this process isn't always secure unless you buy your domain from a reliable registrar or hosting company.
When your domain's registration period expires, if you don't renew it, you put yourself in a lot of trouble. For instance, someone might be keeping an eye on your domain name right up until its expiration date in order to quickly take it for themselves when it does, since the primary services connected with a domain usually stop working once it has expired.
Each country has its own domain TLD, which enables users to purchase domains specific to that country if the website they want to host is designed for a local audience. Even if there are certain global TLDs, like.com and.net, regional domain TLDs are still necessary so that website creators can buy a domain that relates to the location of their website.
Regional domain TLD examples include .co.ukm.bd for websites aimed at Bangladesh audiences.
Since search engines understand that you made the effort to choose a local TLD rather than an international one for your domain, having a region-specific domain TLD can improve your search engine results in the country in question.
To add personality, several websites additionally incorporate TLDs into their domain names. For instance, the website Delicious uses the '.us' TLD with the domain name 'icio.us' as its primary domain and 'del' as a subdomain.
For a website to be accessible without requiring an IP address to be allocated to each unique website on the internet, a domain is required, in conclusion.
A domain with a region-specific TLD can be used as an effective marketing tool because you will appear higher in local search engine results, though you must make sure you can monitor your own domain.
A domain gives the users of your website an alphanumeric address that is simple to remember and that they can use to reach your website whenever they want. Your domain registrar or domain provider will still give you the tools you need to transfer the web hosting for your domain to another provider even if you decide not to have a web hosting plan that can host your website.