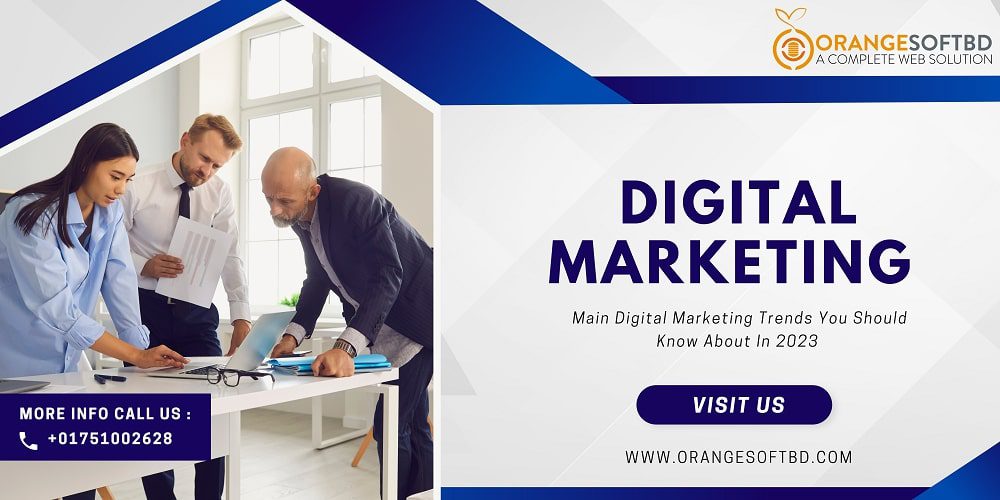 Main Digital Marketing Trends You Should Know About In 2023
At this stage of technology, digital marketing is a major benefit for businesses and brand awareness. You can notice now that every other business has a website, and if they don't, they at least have a social media account or ad campaign. Digital marketing has so many possibilities to communicate with customers, they rely on it to find out more about a brand. 
You can get creative and experiment with a variety of marketing tactics and marketplaces like MasterBundles for unique website templates, and since users spend much of their time online there are a great number of channels to connect with customers. The best digital marketers have a clear picture of trends and how to apply them to reach more customers.
What is digital marketing?
Digital marketing, or as others call it online marketing, refers to the advertising efforts of brands to connect with potential customers using the internet or additional forms of digital communication. Online marketing is accomplished through search engines, social media, email, and some other communication channels. 
Top digital marketing trends to follow in 2023
Digital marketing is persistently modifying to meet the new standards of its users. These changes are very rapid and it's important to keep up with them, so here are some ultimate trends of 2023 that you should start using today.
Short videos
TikTok and Instagram Reels are filling social media feeds, it's hard to find other types of posts. Users are keen on this format and there is no doubt that it will continue to grow. These short videos are the only posts that show up in a consumer's feed and to stay relevant businesses need their channels to appear in feeds. 
Simple and clear messaging
Simple messages are a kind of second-hand result of short videos. People's attention spans are constantly dropping which is a big challenge for businesses, they need to learn to communicate in short, quick texts that catch attention and leave a pleasant residue. Even though there are times when you need to write out a whole paragraph, consider adding a few-word sentence in the beginning, and then when you get users interested they will read the rest. 
Youth-centered marketing
The Gen Z era has taken over, they are not just the next generation, they are already the current generation. These consumers are very interested in brands that appear to be who they truly are, they want companies to be honest, transparent, down-to-earth, and authentic. Creating a brand persona is more than a trend for 2023, it's the new way brands should position themselves. 
Realistic influencer marketing
Influencers have always been a hit, businesses work with them to find a way to get in front of target audiences. In 2023 the influencer trend is taking a new turn, rather than having influencers straight up advertise products, they will need to make it more organic. For example, making short videos of their everyday lives and having a product or service slip up somewhere between their tasks. 
The key benefits of using digital marketing
Digital marketing is a new level to the traditional methods, a way to reach a larger audience who are most likely to buy your product and service. Here are a few benefits of digital marketing in our era: 
More cost-effective than outbound marketing
With digital marketing, you have more possibilities to track campaign performance, and then you'll have a greater understanding of what is performing well and what's not doing so well, where you should invest money and where you should try to use other tactics. A digital marketing strategy allows you to pivot continuously, ensuring you get the most out of your many and don't waste it on tactics that don't perform well. 
Focus efforts on conveyable prospects
Digital marketing allows you to target a highly-specific audience with personalized marketing messages. Whereas an advertisement on TV, magazine, or billboards is very random, you can't control who sees it. 
When using social media you can target an audience based on their age, gender, location, interests, network, or behaviors. By using SEO strategies you can serve ads to show up when a user shows interest in a specific topic or keywords related to your product. 
Global search
Traditional marketing is limited by geography and creating an international market is out of the reach for many. Whereas, digital marketing is online-based, meaning a business can reach more customers without limitations. 
Increase customer loyalty
Customer loyalty might be hard to establish, but it's well worth your efforts. While it's great to attract and convert new customers, it's much greater to retain existing customers and much more cost-effective. Retaining customers is much easier with digital marketing rather than with traditional, you have various ways to keep in contact with them. Keep contact through personalized email offers and social media engagements. 
Brand credibility
Online marketing brands are usually the ones with the greatest credibility. It's because an online platform allows you to address customers' doubts, clarify important details, and show passion for your business. It's no surprise that a high-quality content brand will attract a greater audience that then might turn into loyal customers. 
Online presence: professional website templates
Creating a website for a business might be costly and time-consuming. It may be hard to come up with an original idea that will resonate with your audience and demonstrate your business in the best way possible. Another great way to make a website is to use professional templates. It saves a lot of time and with many themes available, you can find what's right for you and even edit it to your liking. 
Ready-made templates are just great, as they don't require any web development knowledge or coding background. They include top features and various elements, are cost-effective, available right away, and most importantly they are designed considering all the latest design trends and styles. 
Conclusion
Marketing allows you to better connect with your audience. With a greater understanding of what digital marketing is, its benefits, and the top trends of 2023, you are well prepared for a successful digital marketing start in 2023. Keep in mind all the aspects, update your strategy and put these ideas into action, and you'll notice as your sales, brand loyalty, and followers increase.